1 John 2:5 (ESV) "But whoever keeps his word, in him truly the love of God is perfected. By this we may know that we are in him:"
Many of us make New Years Resolutions only to break them by the middle of January. Hence the reason I am bringing this up. Today is the sixteenth of January. We are just half way through the month. Are you still reading through the Bible? Are you still making your devotional time, exercise time, and eating right? Many people start things, but fewer people finish things. I don't want you to feel guilty or bad about yourself. You can repent and start over right now. There is grace for those that ask. You can simply say, "Jesus forgive me for failing short of my commitment. Help me to begin again, to keep my word."

You may not feel any different, but we don't live by our feelings. God is a God of words. He created the world with His words. Notice in the scripture below, what we say is what becomes visible to the eyes.

Hebrews 11:3 (NIV) "By faith we understand that the universe was formed at God's command, so that what is seen was not made out of what was visible."

God spoke, and then it was seen. Speak what you want to see, not what is, but what can be!
Ecclesiastes 5:4-7 (ESV) "When you vow a vow to God, do not delay paying it, for he has no pleasure in fools. Pay what you vow. It is better that you should not vow than that you should vow and not pay. Let not your mouth lead you into sin, and do not say before the messenger that it was a mistake. Why should God be angry at your voice and destroy the work of your hands? For when dreams increase and words grow many, there is vanity; but God is the one you must fear."
We begin by keeping God's word. Then the power of God comes into our life, to keep our own word. As we become stronger in the word of God, we become stronger in our own word. You may notice you think more, before you speak. You may get a check in your spirit as to what and how you say something. You may choose to say nothing.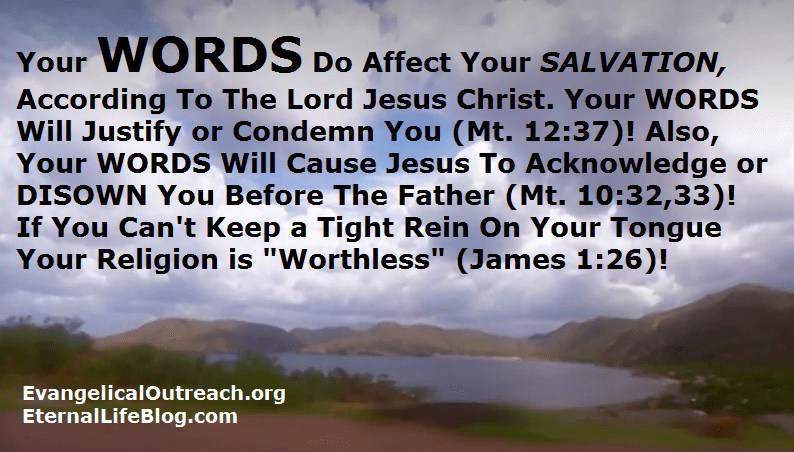 Deuteronomy 23:23 (ESV) "You shall be careful to do what has passed your lips, for you have voluntarily vowed to the Lord your God what you have promised with your mouth."
We are created in the image of God. Hence, our words have power to create order out of chaos, or we can generate chaos. The choice is ours. Today, I challenge you to choose your words according to the Word of God. Say what God says about you. Say what God says about others. Say what your want, not what your have. There is power in your mouth. Direct your words like arrows to destroy the enemy, or build yourself and others up. God says, we can have what we say.
Mark 11:23 (NIV) ""Truly I tell you, if anyone says to this mountain, 'Go, throw yourself into the sea,' and does not doubt in their heart but believes that what they say will happen, it will be done for them."