For the next several days I will be using the word "DETOX" to help you detoxify your relationships. This first letter "​D" is for discover. We all have those triggers that set us off. It can be the smallest things that turn into the biggest fights. So, it only makes sense to find out what our loved ones triggers are, and make a conscious effort to avoid setting off the trigger. Maybe it's questioning them? You may want details and the next thing you know, you're off to the fireworks. They took the question as a lack of trust in them, or that you thought they were wrong. Yes, I know that's not what you meant, but that was a trigger for them. Your questioning pulled the trigger. Now the gun fight is on. Usually at this point someone is going to walk away with a bullet wound, and it could be fatal.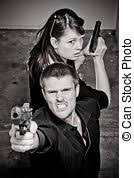 Lots of people get hurt from friendly fire. You're in a bad mood and someone walks in, and they catch a bullet too. Didn't mean to hit them with our best shot, but we were loaded for bear, and well, with our nerves bare we just got trigger happy. Can't take that bullet back. Now we have just made a bad day worse. We just discovered that trigger in the other person's life, but it also exposed our weakness to handle situations properly.
Time to detox. When we discover another person's trigger we are responsible to handle with care. We don't go pointing guns at people. We don't usually carry loaded weapons unless, we're ready for a fight. Travel with care, not just over the holidays, but all year long. Keep an eye on the trigger, and make sure no one gets shot!
Luke 6:31 (NIV) "Do to others as you would have them do to you."