There was always magic in the air when my father was alive. You just never knew what he was up to. He loved surprises. He said my name like a song. When he saw me he always told me how pretty I was, and that I smelled good. Needless to say I learned that from him. He always smelled so good. After he died I went into the bathroom and opened his medicine cabinet and took an almost empty bottle of his favorite cologne. I still take it out and smell it every now and then. Daddy loved to look good and smell nice, and he loved it when I did too. He was a good, good, father. I can only imagine how good God must be because I know He is greater than any earthly father could ever be. I look forward to seeing both my earthly father again and my Heavenly Father for the first time, face to face.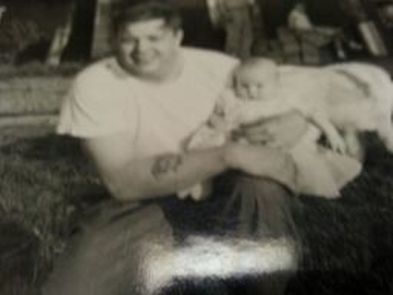 This is a photo of my father and I in 1956. That smile on his face was the same smile that looked back at me all my life. The same smile I miss each day. I am so glad for the word of God that tells me I will see him again. The word of God encourages me everyday of my life. The word of God brings light into every situation.

This holiday season if you are having a hard time know that God tells us in His word that He works all things--not some things, all things together for the good of those that love Him and are called by His name.

Romans 8:28 (KJV) "And we know that all things work together for good to them that love God, to them who are the called according to his purpose."

There is coming a day when He shall return and we that are alive will be caught up with Him. There is coming a day when there will be no more tears. Run the race set before you. There is coming a day!